If you are looking to transform your kitchen, you might want to consider adding new black cabinet knobs. The small details can make a huge difference; in fact, minor updates add up and can eventually increase the value of your home. The reason why today we'll be sharing with you about trendy black cabinet knobs.
Balck cabinet knobs work well with all kitchen cabinet colors. It's a bold choice, yet at the same time, it's neutral enough not to overwhelm your kitchen. It is a great choice if you look for a classic, durable finish that won't go out of style.
As you may imagine, with various styles also comes a variety of colors and textures, so knowing what to choose may seem a challenging task. Please do not panic; we can assure you the perfect choice for you is out there. So, check out below different black cabinet knobs, and feel free to pick your favorite accordingly.
Black Cabinet Knobs FAQ's
Is black cabinet hardware trendy?
It seems like the trendy metal of choice for hardware, decor, and finishes shifts in the design world every few years. While black is undoubtedly showing up everywhere, the matte black trend is showing up mainly in kitchen and bathroom design.
In fact, matte black is trending in all forms of hardware, from cabinets to doorknobs and light fixtures.
What is better, cabinet knobs or cabinet pulls?
One main difference between cabinet knobs and pulls is how you install them. You attach cabinet pulls to a cabinet or drawer with two screws, one on each side of the pull. However, cabinet knobs only require a single screw for installation.
Another difference in the cabinet knobs and pull installation process is how much measurement they require.
Pulls need more measurement simply because they have two sides that must be screwed in. You want to make sure the pulls are level and not crooked.
Often, you use pulls for cabinet doors while you use knobs for drawers. This is partially due to the space difference on cabinets vs. drawers, but it is also easier to open a door with a pull. It requires less effort because you can use your whole hand. You can also find knowing How to clean and maintain black kitchen handles a helpful read.
How to replace cabinet knobs?
You only need a screwdriver to complete this process.
Kitchen cabinets generally have pre-drilled holes in the areas where hardware is supposed to be installed. If there isn't a hole, you may need a drill to create what is called a pilot hole.
Once you have drilled your holes or found your pre-drilled holes in your cabinet faces, you will push the screw through the back of the cabinet to the other side where you want to install the hardware.
Simply use a screwdriver to screw it into the hole on the backside of the hardware. This is all that needs to be done to anchor the hardware to your cabinets securely.
Tip to buying cabinet knobs
Determine the shape you want. Take note of your cabinet style, countertop edge, lighting fixtures, and any other important design elements. Do they have square or curved lines?
Choose hardware that is consistent with the type of lines in your design.
Consider the finish. While most people will choose chrome or brushed nickel, numerous other finishes are available to add interest to your kitchen. You don't need to match your faucet as long as the finish complements other finishes in the design.
Think about comfort. Try out the knob or pull before you purchase the entire kitchen.
Touch it, feel it, and fit your hand inside the pull. Does it fit? Does it feel nice? Or does it cram your fingers and feel sharp around the edges? You should be able to fit four comfortably.
Black Cabinet Knobs
The clean lines of the 1-1/8 in. Simply Geometric Cabinet Knob provides an eye-catching modern flair to your cabinetry.
In a stately Flat Black finish, this gorgeous knob turns the mundane into the magnificent. Instantly transform the look and feel of your kitchen or bathroom with this easy install.
Modern yet approachable, this design can match back to your appliance handles and gives your kitchen a contemporary update.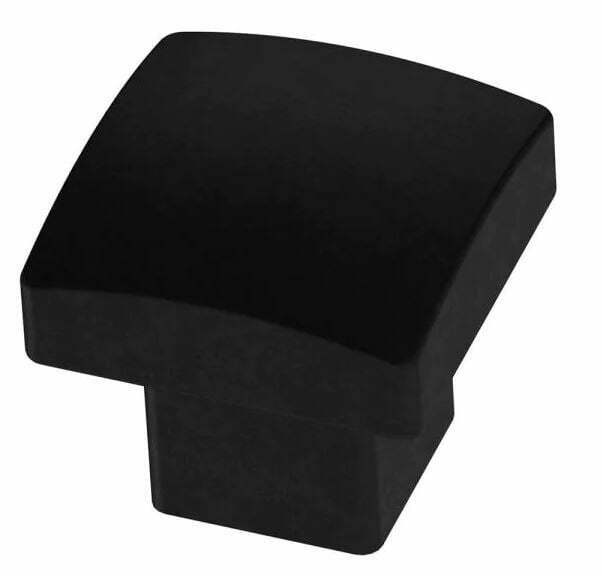 Features:
Matte black finish
Soft sheen and timeless style
Modern square knob shape
OYX handle is suitable for a variety of scenes and decorative styles. The great and straightforward design can be applied to kitchens, bathroom cabinets, various decorative styles.
These hollow knobs are also suitable for wardrobes and all kinds of drawers, perfectly matching European and modern styles, which will make your room look beautiful and harmonious.
They are made of high-quality stainless steel with a matte black finish. And the handles for the kitchen cabinet are strongly corrosion-resisting, wear-resistant, not easy to fade, and not easy to rust.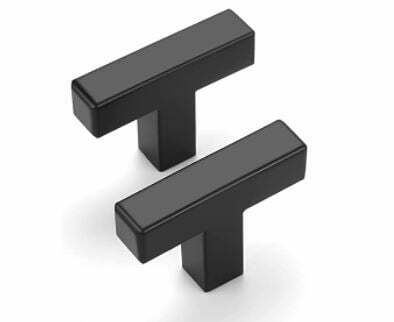 Features:
Stainless Steel
Corrosion-resistant
Matte Black Finish
Made of solid metal, they are extremely durable and robust, not easy to break. You open and close those cabinets every day, so you need knobs that can handle years of constant use.
Along with square cabinet knobs, you will also get screws so that you won't have to run to the hardware store and try to find the right size for your new Cabinet Knobs.
Use a simple manual or powered screwdriver to attach these in seconds. Pre-drill holes to help maintain surface integrity.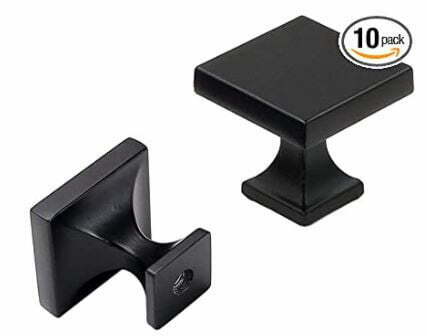 Features:
Zinc Alloy
Fine Flat Black Finish
Multi-purpose
The cabinets knobs are an ideal way to beautify an entire room. Make cabinet hardware a part of your home décor today.
With advanced technique, the door pulls are made to be long-lasting, accompanied by good looking and fine touch.
The Black cabinet knobs have a wide appeal across a range of kitchen cabinet doors and drawers. The Matte Black knobs have a clean and timeless look that works with farmhouse, vintage, traditional and transitional styles.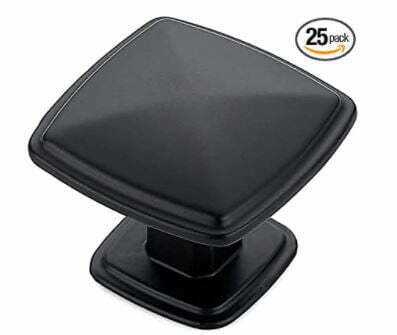 Features:
Zinc Alloy
Matte Black
Square
The matte black hexagon knobs have a sleek and modern look that works with farmhouse, vintage, traditional and transitional styles.
Made of high-quality zinc, it is quite heavy and has a solid feeling in your hand (not hollow). Chamfering process will not scratch your hands to ensure the safety of use.
Fits most styles of cabinets, drawers, dressers, cupboards, bathroom cabinets. Give your furniture a sparkly new look!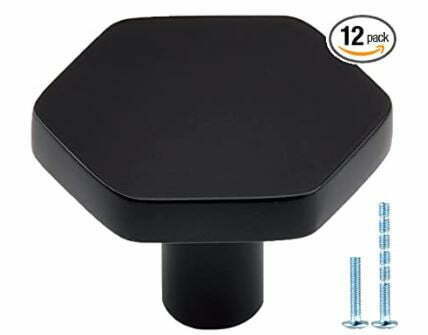 Features:
Zinc Alloy
Long-lasting, corrosion-resistant
Hexagon