In the search for the best wooden cabinet knobs? We hear you! Cabinet hardware's primary purpose is, function, however, these small details can also help define your home's style. There are lots of choices when it comes to choosing your hardware but today we'll be focusing on wooden cabinet knobs.
When it comes to hardware style, it is dependent mainly on the overall design style of your home. And wooden knobs aren't also durable but pretty and artistic. Wooden cabinet knobs and pulls look great in rustic or coastal style homes, and pair well with unfinished wood vanities, cabinets, and drawers.
However, with many options in the market, choosing the one that will adapt the best to your needs, can be a bit frustrating. Do not panic, we can assure you the right wooden knob is out there waiting for you. Scroll down and find several wooden cabinet knobs that we think will be worth your time and money.
Wooden Cabinet Knobs FAQ
What is cabinet hardware?
Cabinet hardware refers to the knobs and pulls attached to both your cabinets and drawers. Hardware also includes the hinges that allow the cabinet door to swing open. The primary function of cabinet hardware is to allow you to open your cabinet doors and drawers.
Why choose wooden cabinet knobs?
Some of the knobs and handles are fully made of raw unfinished wood and others are combined with matte black or champagne bronze finishes.
Select a combination of wood and brass cabinet knobs for your next project to make it unique and take it to the next level.
By choosing a selection of unfinished cabinet knobs you can stain them to match your project, and because they are available in oak, cherry, walnut, and more as well as mushroom, square, and ball designs, you are sure to find the knob with just the right look.
What are the different types of drawer pulls?
Knobs typically require only one mounting screw to make installation simple. Also referred to as drawer pulls or cabinet pulls, handle pulls have a rod- or bar-like design that attaches to the surface at each end. Many handle pulls are offered in the same shapes, styles, and finishes as knobs for coordination purposes.
Are cabinet knobs better than cabinet pulls?
Knobs have smaller profiles than handles, are less expensive, and can be used for both drawers and cabinets. They are slightly easier to install than pulls since you only need one screw to secure the knob to the surface.
Pulls are larger than knobs, make more of a statement, and tend to be easier to grip. They are more expensive than pulls, but they come in many different sizes. They tend to complement drawers or larger cabinets with their linear shape.
What type of handles goes on kitchen cabinets?
There are no strict rules to follow when choosing whether to select a knob or a pull or both. One preference is to use knobs for all doors and pulls for all drawers. Use a pull for any large door such as a pantry and any pull-out door (including pull-out base pantries or trash pull-outs).
Is installing cabinet knobs easy?
Tools:
Screwdriver: Use to tighten the screw into the back of the cabinet knob
Tape measure
Hacksaw
Drill
Drill bit
Countersink drill bit
Directions:
When fitting a cabinet knob, it is good to first determine if the length of the screw is correct. If it is too long, then it will need to be cut down using a hacksaw and if it is too short you may need to countersink it into the cupboard door.
Screw the fixing into the back of the cabinet knob to see if any adjustment needs to be made with the length or to determine the depth that needs to be countersunk. It's best to adjust the screw as little as possible to allow enough length in the back of the cabinet knob for secure fixing.
Once the screws are the correct length, mark where you wish the cabinet knob to sit. Drill the appropriate size hole for the screw and use a countersunk drill bit so the screw can sit within the door but not fall through.
Slide the screw through the door and start to attach the cabinet knob to it. Once on the screw enough, push the cabinet knob flush to the door and then tighten the screw to the cabinet knob.
Avoid spinning the cabinet knob on as this may cause damage to your cupboard doors and paintwork.
What to know before choosing cabinet knobs?
Determine the shape you want. Take note of your cabinet style, countertop edge, lighting fixtures, and any other important design elements. Do they have square or curved lines?
Choose hardware that is consistent with the type of lines in your design.
Consider the finish. While most people will choose chrome or brushed nickel, there are numerous other finishes available to add interest to your kitchen. You don't need to match your faucet as long as the finish complements other finishes in the design.
Consider how materials will feel. Along with the finish, hardware material can impact the style and feel of the space. Most cabinet pulls and knobs are made out of metal. However, you can also find knobs and pulls made of glass, wood, crystal, plastic, and stone.
Think about comfort. Try out the knob first. Touch it, feel it, and fit your hand inside the pull. Does it fit? Does it feel nice? Or does it cram your fingers and feel sharp around the edges?
If you would like your hardware to make a bold impact, choose a finish that has a lot of contrast with your door color. For example, black hardware on white doors, or satin brass on navy blue doors. On the other hand, if you'd like your hardware to be more subtle, choose a finish that is similar in color and light to your doors.
Wooden Cabinet Knobs
Knobs and handles are like icing on the cake. Enhance the style you like, refresh the look of the cabinet and drawers, coordinate with the rest of your home.
A simple change can make a big difference. These knobs are perfect for dresser drawers, cabinets, or kitchen cupboard doors.
Beautifully handcrafted knobs. Decorative and matches with all home décor themes. A great style knob to give your home that special touch.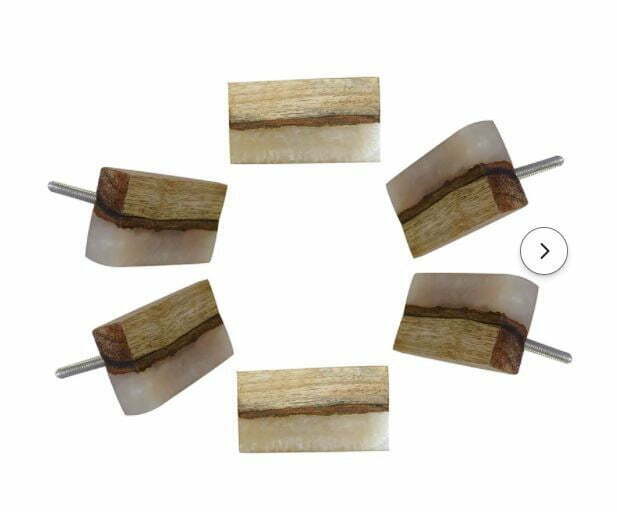 Features:
Durable
Handcrafted
Rectangle
Elegant cabinet knob made of natural horn and wood.
The pattern in the front of the knobs extends to the back as well which adds to its uniqueness and style.
The knob also features a glass bead which gives it depth. Ideal for cabinets and drawers.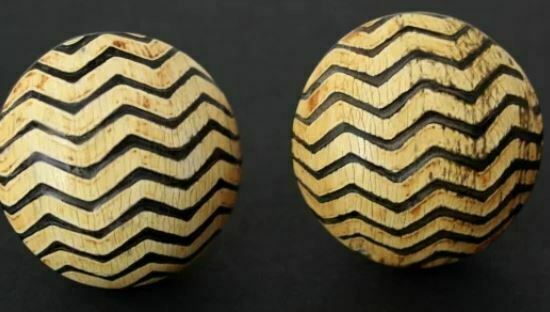 Features:
Black/Brown Finish
Round Knob
Horn and Wood
These modern wood drawer pulls are a perfect fit as cabinet hardware in modern kitchens and mid-century furniture.
This item is made from solid and unfinished walnut. A great accent to make your favorite spaces pop up.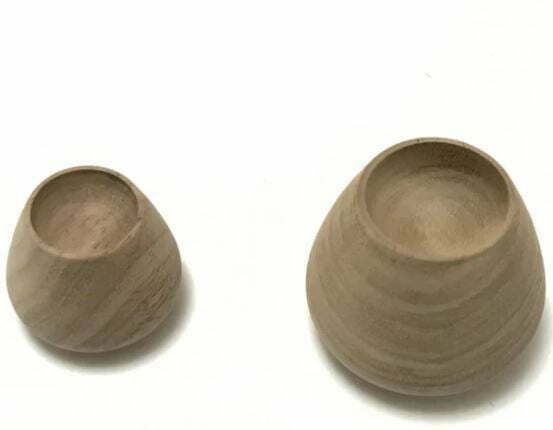 Features:
Add a Victorian detail to your design with this hard-to-find, Eastlake-inspired doorknob. The wood knob features a classic Eastlake design on the top of the knob in unlacquered brass.
The ringed design creates a traditional look that will add charm to any cabinet, drawer, or furniture piece. Choice of Unfinished Walnut, Ebony, or Antique Brass Ebonized finish. 1″ or 1 3/8″.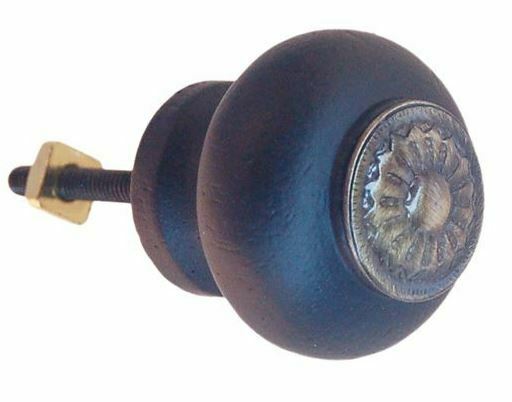 Features:
Unfinished Walnut
Ebonized
Antique Brass
Cabinet knobs are made of lightweight wood in mushroom shape, with a smooth texture, look simple and elegant.
Each knob is unfinished and ready for painting, staining, and coloring. Perfect for a DIY project.
These mushroom shape knobs are suitable for cabinets, drawers, dressers, cupboards, wardrobe furniture doors, and more. These small wooden knobs will be a great decoration & beautiful addition to your kitchen, bathroom, bedroom, and study.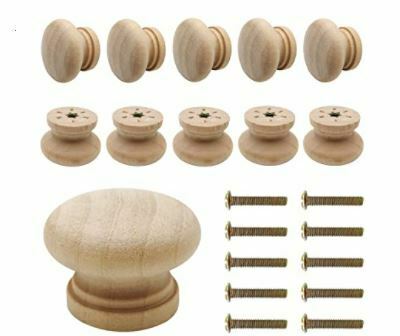 Features:
Mushroom Shape
Unfinished
Easy to Install
Beautifully handcrafted glass knobs. Decorative and matches with all home décor themes. A classic Vintage style knob to give your home that special touch.
With a strong structure, it's very sturdy and not easy to come apart. Come with screw, easy to install, fit for door cabinet dresser drawers cupboard wardrobe bookcase, etc.
These knobs are very pretty, artistic, and durable, Ideal for cabinets, dressers, drawers, cupboards, wardrobes, bookcases in your home, kitchen, bathroom, living-room, book-room, dorm, and office.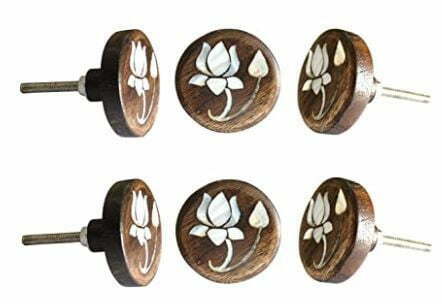 Features:
Versatile
Decorative
Durable
Suitable for kitchen cabinet, furniture door, cupboard, desk drawer, wardrobe drawers, shoe cabinet, chest, bookcase, and much more.
Dresser knobs are made of solid wood good decorations for your home or office.
Beautiful design and painted walnut elegance. These versatile knobs are easy to install.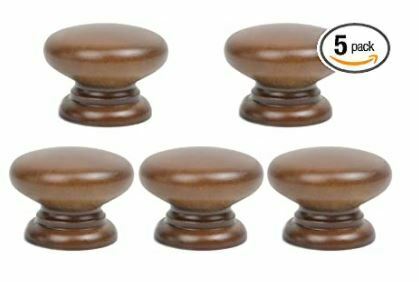 Features: