Wishing to upgrade your kitchen? We hear you. A simple but excellent way to give your kitchen a new and fresh start is new cabinet knobs. Kitchens get messy fast, and knobs help to protect your cabinet finish because you are not transferring the oils on your fingers to the cabinet fronts. So today, we'll be telling you all about brushed nickel cabinet knobs.
Brushed nickel is a hardware finish that looks good in most spaces, is affordable, and is widely available. Often, interior designers choose cabinet hardware that complements the overall decor of your kitchen. If you like classic yet modern, try brushed nickel cabinet knobs.
As you may imagine, various styles also come with various shapes and textures, so knowing what to choose may sound like an impossible task. Do not fret; we can assure you the right choice for your cabinetry is out there.
Brushed Nickel Cabinet Knobs FAQ
What are the benefits of brushed nickel cabinet knobs over cabinet pulls?
One main difference between cabinet knobs and pulls is how you install them. You attach cabinet pulls to a cabinet or drawer with two screws, one on each side of the pull. However, cabinet knobs only require a single screw for installation.
Another benefit in the installation process of cabinet knobs and pulls is how much measurement they require.
Pulls need more measurement simply because they have two sides that must be screwed in. You want to make sure the pulls are level and not crooked.
Is it hard to replace cabinet knobs?
You only need a screwdriver to complete this process.
Kitchen cabinets generally have pre-drilled holes in the areas where hardware is supposed to be installed. If there isn't a hole, you may need a drill to create a pilot hole.
Once you have drilled your holes or you have found your pre-drilled holes in your cabinet faces, you will push the screw through the back of the cabinet to the other side where you want to install the hardware.
Simply use a screwdriver to screw it into the hole on the backside of the hardware. This is all that needs to be done to anchor the hardware to your cabinets securely.
What to know when buying cabinet knobs?
Determine the shape you want. Take note of your cabinet style, countertop edge, lighting fixtures, and any other important design elements. Do they have square or curved lines?
Choose hardware that is consistent with the type of lines in your design.
Consider the finish. While most people will choose chrome or brushed nickel, numerous other finishes are available to add interest to your kitchen. You don't need to match your faucet as long as the finish complements other finishes in the design.
Think about comfort. Try out the knob or pull before you purchase the entire kitchen.
Touch it, feel it, and fit your hand inside the pull. Does it fit? Does it feel nice? Or does it cram your fingers and feel sharp around the edges? You should be able to fit four comfortably.
Does brushed nickel hardware go with stainless steel?
Chrome and brushed nickel cabinet hardware are the most popular choices for traditional kitchens. The colors are understated and match stainless steel appliances, which are common to most kitchen styles. They look especially sleek paired with white shaker cabinets.
Which is best, brushed nickel or chrome?
Brushed nickel hides watermarks and fingerprints better than chrome. Fingerprints are the bane of kitchen and bathroom fixtures. So are those small white marks that show up when the water dries on metal surfaces. Fortunately, the textured nature of a brushed finish can hide these spots, smudges, and splotches quite well. Another great choice is Rustic Cabinet Knobs. Have you seen them?
Brushed Nickel Cabinet Knobs
Cabinet knobs are made of high-quality solid zinc alloy, strong and durable, do not leave fingerprint-free, and are easy to install.
Perfect for cabinet, closet, cupboard, drawer, dresser, door, wardrobe. You can have fun with DIY and make your furniture look new and modern.
Each handle has its package, which can effectively prevent bumping and scratching.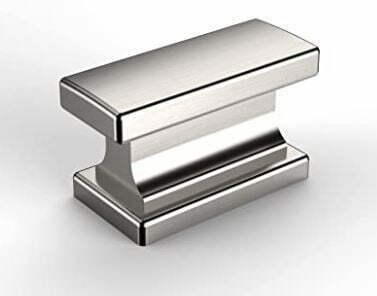 Features:
Zinc Alloy
Satin Nickel
Transitional
The cabinets knobs are an ideal way to beautify an entire room. Make cabinet hardware a part of your home décor today.
With advanced technique, the door pulls are made to be long-lasting, accompanied by good looking and fine touch.
The Brushed Nickel cabinet knobs have a wide appeal across a range of kitchen cabinet doors and drawers. The Satin Nickel knobs have a clean and timeless look that works with farmhouse, vintage, traditional and transitional styles.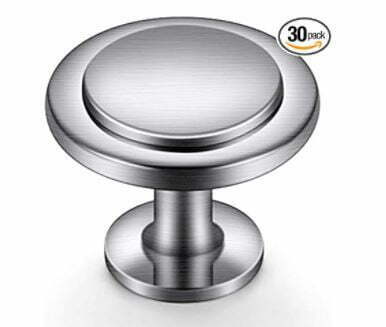 Features:
Round
Stainless Steel
Silver
The design of this cabinet knob is paired with the soft and subtle curvature that coordinates well with existing home décor.
These are a perfect addition to any kitchen cabinet, cupboard, bedroom closet, wardrobe, and drawer.
homdiy cabinet knobs update your interior decoration and bring you a comfortable and warm aesthetic experience. You can use these knobs anywhere in your home, such as kitchen cabinets, bathroom cabinets, bedroom cabinets, clothes drawers, etc.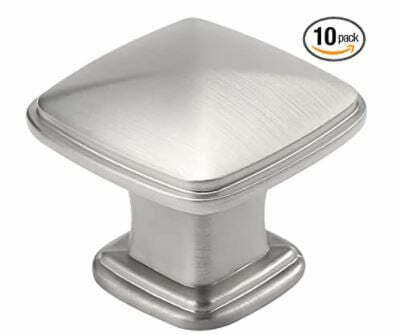 Features:
Smooth Edges
High-Quality Zinc Alloy Material
Solid Construction
Southern Hills brushed nickel drawer pulls, and knobs are a great way to update any home. These knobs match our brushed nickel cabinet pulls.
Each brushed nickel cabinet knob is individually wrapped and bagged to protect the finish during shipping.
An easy and inexpensive way to update any kitchen knobs for cabinets, dresser drawers, bathroom vanity, desk, or other furniture or bi-fold doors. Cabinet knobs are solid, heavy construction.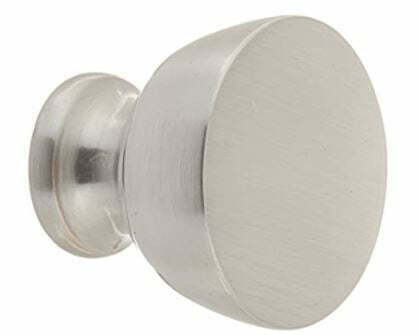 Features:
Not hollow
Brushed Finish
Satin Nickel Color
Made of high-quality zinc alloy with a brushed satin nickel finish, the Asidrama pull is a heavy-duty cabinet pull that is strong and durable.
Asidrama furniture pulls are ideal for cabinets, closets, cupboards, drawers, dressers, doors, and wardrobes. You can upgrade your home with your DIY.
Standard screw spacing for easy installation and replacement.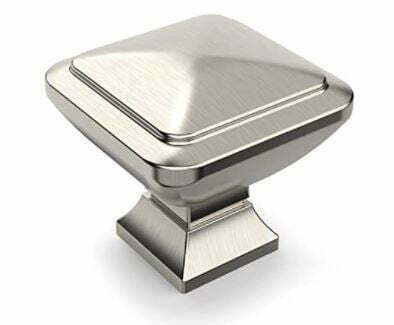 Features:
Zinc Alloy
Versatile
Brushed