Kitchens are always in constant use; therefore, it is no surprise that your cabinet handles, which are one of the most touched surfaces in homes, get dirtied easily. Keeping in mind that layers of grime and grease build up on these metal knobs and pulls is the reason why we'll be telling you all about how to clean cabinet handles the right way.
Well-maintained hardware goes a long way in enhancing the appeal of your favorite furniture pieces. However, with tarnish, rust, and grime, most people get discouraged and buy new hardware. However, there are effective methods to clean your cabinet handles.
If you've tried in the past to clean kitchen cabinet knobs and pulls to no avail, by now, you probably are aware that there's a right and a wrong way to do so. With the right tools and the proper steps, you can leave your cabinet handles looking new. Check out different ways how to clean cabinet handles, and you'll never want to leave your kitchen again.
How to Clean Cabinet Handles FAQs
How do you clean tarnished cabinet handles?
Mix 1 tablespoon of ammonia with 1 pint of water. Wipe chrome and steel knobs with this solution and a soft rag, buffing them until the tarnish and dirt are dissolved. Rinse with clear water and wipe dry with a clean rag.
How do you clean greasy kitchen cabinet handles?
Dampen the cloth with the soapy water mixture and wring it out using a rag or dish towel. You want it to be wet but not dripping. Wipe down the cabinet hardware with the towel. The first time you do this, you might have to use a little elbow grease to take off any grime that's built up.
How do you clean metal cabinet door handles?
Metal hardware is expensive and adds a touch of glitz and shine to living spaces. They are a popular option in Indian homes, especially the kitchen, where they tend to accumulate a thick, stubborn layer of grime.
To clean kitchen cabinet hardware made of metal, soak the hardware in a soapy solution for a few hours or overnight to loosen up and do away with most of the dirt.
Rusting is also a common problem with metal hardware. Soak everything in vinegar or a solution of lemon juice and borax, and your hardware will be as good as new.
How to remove tougher stains from different metal variants?
For copper, rub lemon or a mixture of salt and vinegar to get rid of grime.
Chrome and steel hardware can be easily cleaned with a vinegar-soaked cloth but for rusts, use an aluminum foil soaked in water and then scrub. Avoid using steel wool or rough cloth on stainless steel since they can damage the surface.
Brass is beautiful but tarnishes easily. This can be treated with a mixture of vinegar (½ cup), salt (1 teaspoon), and flour. Alternatively, you can use a chemical cleaner like Brasso.
To clean kitchen cabinet hardware made of silver, mix 1 tbsp. ammonia with 1 pint of water and wipe with a soft cloth.
How to Clean Cabinet Handles
Tools:
Screwdriver
WD-40
Buckets or bowls
Old toothbrush
Sponge or cleaning cloth
White distilled vinegar
Water
Dishwashing liquid
Chamois or soft polishing cloth
Directions:
Remove cabinet knobs and pulls
Remove knobs and pulls from the back of the cabinet or drawer by simply unscrewing them using a screwdriver. Or even just twisting the knobs off with your hand.
You probably don't have to clean the screws, so be sure to keep them all in a safe place, so you don't lose them.
This versatile 11-in-1 multi-tool has everything the professional needs. The integrated screwdriver/nut driver shaft holds eight popular tips and converts to 3 nut driver sizes.
The blades are interchangeable for a quick and easy switch out. This multi-bit screwdriver/nut driver comes with an interchangeable blade for a short and easy control out; a comfortable cushion-Grip handle.
It also has a blast finish bit tips that provide a firm hold and reduce cam-out.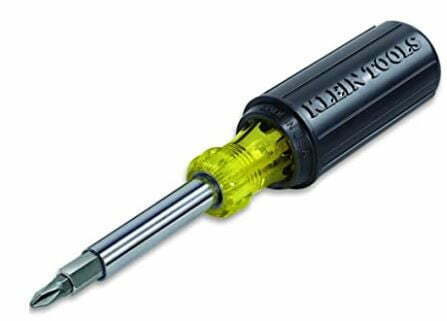 Features:
Cushion-Grip handle
Eight popular tips
Three nut driver sizes
Kick-start grime removal with WD-40
Put on your gloves and pick up a knob or pull to get started.
Spray the knob with WD-40 and place it in a bowl or bucket. Continue with other knobs until there is no more room in your bucket or bowl.
Give a few more squirts to ensure the knobs and pulls are coated.
Set a timer for 15-20 minutes. Honestly, this amount of time is arbitrary since it is the harshest cleaning solution in this process.
Then gently scrub the knobs with an old toothbrush or sponge. If you use a sponge, ensure that you use a non-abrasive one.
WD-40 Multi-Use Product protects metal from rust and corrosion, penetrates stuck parts, displaces moisture, and lubricates almost anything.
WD-40 Big Blast features a wide-area spray nozzle designed to deliver product quickly and efficiently over large areas.
The WD-40 Multi-Use Product is genuinely a "toolkit in a can." With more than 2,000 documented uses, it has been the go-to resource to get the job done for more than 60 years.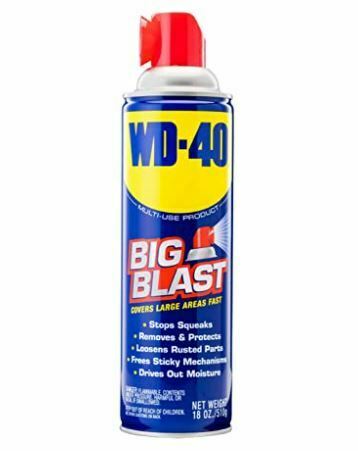 Features:
Quickly removes adhesives
Protects against rust
Versatile
Soak kitchen cabinet knobs and pulls in a vinegar solution
Prepare a cleaning solution with a 1:1 ratio of warm water and white vinegar in a bowl or bucket.
Add a few lemon peels. Not only does it cut the vinegar smell, but lemon peels also kick up vinegar's cleaning power.
Submerge the cabinet knobs for a good soak. Ensure that they are entirely submerged.
After a few hours, take out one piece and gently rub it with a sponge to see if the layers of greasy gunk have loosened.
And while the cabinet hardware is soaking, this is your opportunity to wash the now exposed portion on the cabinet with a soapy rag.
Harris Cleaning Vinegar cleans and refreshes. The combination of vinegar and essential oils removes dirt, grease, and grime safely from most household surfaces.
Use stainless steel, ceramic, glass, and much more. For use in kitchens, bathrooms, and more on windows, showers, toilets, etc. Your "go-to" all-purpose cleaner!
Orange essential oils give off a nice scent that neutralizes smelly odors. Safe on most household surfaces, including glass cabinet knobs, stainless steel, ceramic, and those beautiful coastal cabinet knobs.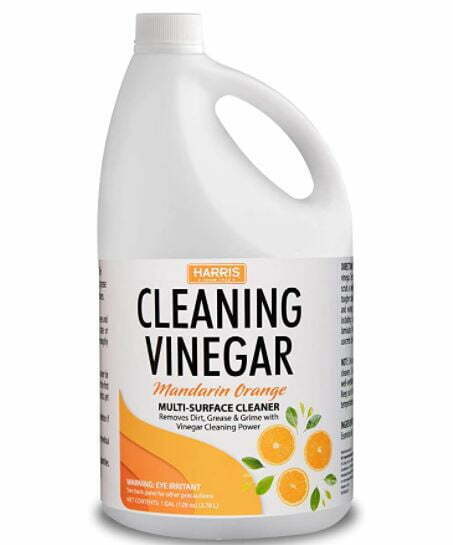 Features:
No Chemicals
Versatile
Pleasant Scent
Rinse with dishwashing liquid
Remove the hardware from your bucket and pour out the vinegar and water mixture.
Rinse out your bucket or bowl, and then fill it back up again with warm water and a squirt of dishwashing soap.
Add the knobs, pull them back into the bucket, and leave for another soak.
After an hour or two, remove the hardware from the bucket or bowl of soapy water one piece at a time.
While giving it a rinse, gently scrub the piece until any remaining dirt or grime is gone.
Dishwasher detergent that cuts through grease while keeping dishes clean and bright.
It contains plant-derived cleaning ingredients to make grease disappear. It is a biodegradable dish soap designed to handwash dishes, pots, and pans.
Garden-fresh Honeysuckle has a tempting sweet scent, a charming mix of flowers and fruits.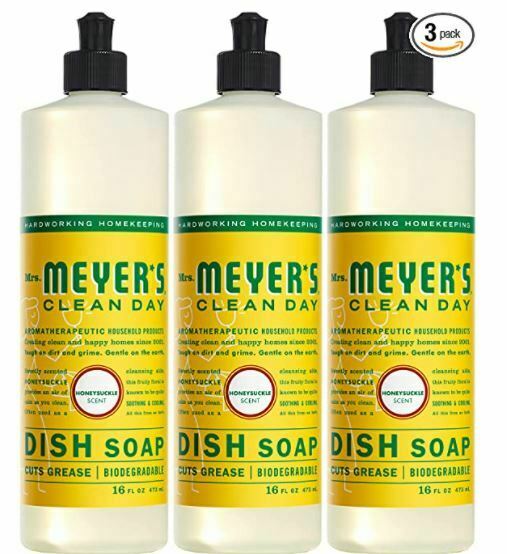 Features:
Liquid
Biodegradable
Goos Scent
Dry and polish kitchen cabinet hardware with a soft cloth
Dry knob and pull with a clean, soft cloth. Lay the clean hardware on paper towels or another clean towel to completely dry.
Ultra-soft, non-abrasive microfiber cloths will not scratch paints, coats, or other surfaces; a great choice to porcelain cabinet knobs, and how to clean oil rubbed bronze cabinet pulls.
The soft microfiber cloths trap dirt, grime, and other particles without scratching surfaces. Plus, they don't leave lint or streak residue behind.
The handy microfiber material can absorb eight times its weight in liquid, dries quickly, and doesn't require any chemicals to clean. Use wet or dry.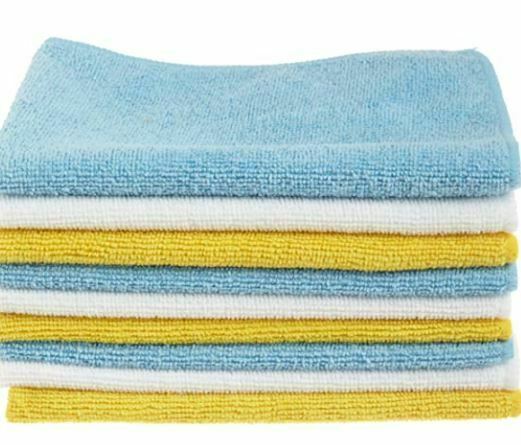 Features:
Non-Abrasive Microfiber
Super Absorbent
Machine Washable and Reusable
How to Clean Cabinet Handles Additional Tips
Always dismantle your cabinet hardware entirely so that you can clean the knobs, pulls, hinges, and other parts thoroughly.
When soaking hardware in a cleaning solution, ensure fully submerged for best results.
To finish up, wipe off any residual soap or water and buff with a clean cloth for shine.
Toothbrushes are great for cleaning nooks and corners that you cannot reach with your fingers. This is especially true if your knobs have intricate details on them.
When cleaning, ensure that you keep screws, knobs, and other small parts in one jar. This way, you do not lose anything.
If you want to avoid streaking, use a newspaper instead of cloth.
Sometimes oil from your skin might leave fingerprints on surfaces when cleaning, so avoid direct contact.
Always leave your hardware parts to dry completely before mounting your cabinets again.
A thin layer of liquid coat or beeswax will ensure that hardware does not soil easily.