Are you thinking about giving your kitchen a little makeover? Then consider adding lovely ceramic cabinet knobs for a vintage look. These small details go a long way and are a fantastic way to enhance one of your favorite spaces at home that is often neglected; the reason why today we'll be sharing with you different ceramic cabinet knobs options.
As you know, kitchen cabinet hardware is available in a wide variety of materials and popular choices, and with beautiful ceramic cabinet knobs that strike the perfect balance between form and function, you'll feel as if you are in a different kitchen.
But with many options in the market, you may find yourself overwhelmed with various shapes and textures and not knowing what to choose. Do not fret; we can assure you the right choice for your kitchen is out there. Keep scrolling down and find different alternatives, and feel free to choose your favorite.
Ceramic Cabinet Knobs FAQ
Where is the best place to put knobs on cabinets?
Cabinet knobs are placed opposite door hinges. On-wall cabinets, knobs are usually placed 2-1/2″ to 3″ from the bottom corner of the door. They are placed 2-1/2″ to 3″ from the upper corner of the door on base cabinets. If your drawer is 24″ or wider, you may choose to place a second knob.
What are the benefits of cabinet knobs over cabinet pulls?
One main difference between cabinet knobs and pulls is how you install them. You attach cabinet pulls to a cabinet or drawer with two screws, one on each side of the pull. However, cabinet knobs only require a single screw for installation.
Another benefit in the installation process of cabinet knobs and pulls is how much measurement they require.
Pulls need more measurement simply because they have two sides that must be screwed in. You want to make sure the pulls are level and not crooked.
How to fit ceramic cabinet knobs?
Tools:
Screwdriver: Use to tighten the screw into the back of the cabinet knob
Tape measure
Hacksaw
Drill
Drill bit
Countersink drill bit
Directions:
When fitting a cabinet knob, it is good first to determine if the length of the screw is correct. If it is too long, then it will need to be cut down using a hacksaw, and if it is too short, you may need to countersink it into the cupboard door.
Screw the fixing into the back of the cabinet knob to see if any adjustment needs to be made with the length or determine the depth that needs to be countersunk. It's best to adjust the screw as little as possible to allow enough length in the back of the cabinet knob for secure fixing.
Once the screws are the correct length, mark where you wish the cabinet knob to sit. Drill the appropriate size hole for the screw and use a countersunk drill bit so the screw can sit within the door but not fall through.
Slide the screw through the door and attach the cabinet knob to it. Once on the screw enough, push the cabinet knob flush to the door and then tighten the screw to the cabinet knob.
Avoid spinning the cabinet knob on as this may cause damage to your cupboard doors and paintwork.
How do you tighten ceramic knobs?
Place your finger against the knob's screw head on the back of the drawer face.
Quickly place the knob onto the screw protruding from the face of the drawer, taking care not to drip glue on the drawer face.
The knob should tighten within seconds. For best results, use glue that contains cyanoacrylate.
Avoid over-tightening and only use a hand screwdriver to avoid cracking the cabinet knob.
How to select cabinet knobs?
Determine the shape you want. Take note of your cabinet style, countertop edge, lighting fixtures, and other important design elements. Do they have square or curved lines?
Choose hardware that is consistent with the type of lines in your design.
Consider the finish. While most people will choose chrome or brushed nickel, numerous other finishes are available to add interest to your kitchen. You don't need to match your faucet as long as the finish complements different finishes in the design.
Think about comfort. Try out the knob or pull before you purchase the entire kitchen.
Touch it, feel it, and fit your hand inside the pull. Does it fit? Does it feel nice? Or does it cram your fingers and feel sharp around the edges? You should be able to fit four comfortably.
Ceramic Cabinet Knobs
This scalloped ceramic knob from Franklin Brass is the perfect way to add a custom look to any project.
Whether you're DIY-ing furniture or looking to add your own finishing touch to cabinetry, this knob brings big style.
The light ceramic tones are a classic colors combination that works well with various paint colors.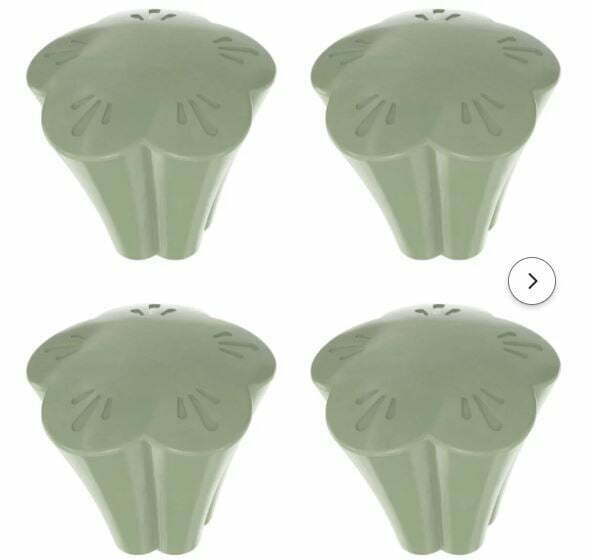 Features:
Novelty Knob
Scalloped edges
Installs easily
Knobs and handles are like icing on the cake. Enhance the style you like to refresh the look of the cabinet and drawers.
Make sure to coordinate with the rest of your home; a simple change can make a big difference. These knobs are perfect for dresser drawers, cabinets, or kitchen cupboard doors.
Beautifully handcrafted knobs. Decorative and matches with all home décor themes. An excellent style knob to give your home that special touch.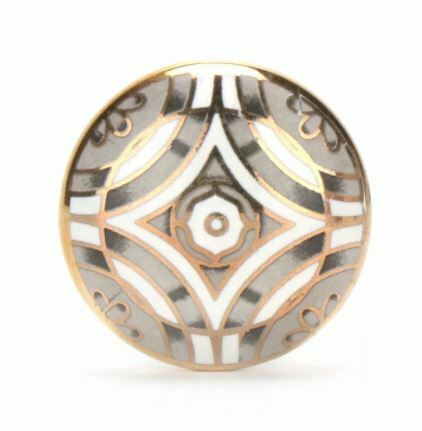 Features:
Durable
Versatile
Mushroom Knob
These knobs are durable and not easy to come apart. Works great as a cabinet knob, dresser drawer pull, kitchen cupboard knob.
Comes with screws and all the necessary hardware; beautifully handcrafted knobs. Decorative and matches with all home décor themes.
An excellent style knob to give your home that special touch. Enhance the style you like refresh the look of the cabinet and drawers.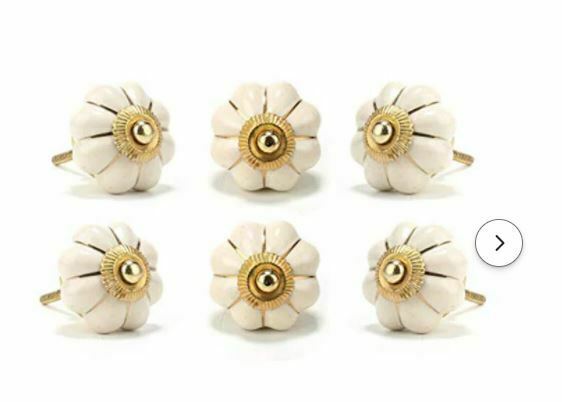 Features:
Floral Theme
Ceramic
White Finish
NOMOPLAS Ceramic Cabinet Knobs and Pulls owns a refined design that makes the perfect hardware update for your old drawer knobs.
Intricately handcrafted from premium ceramic, each piece ensures beauty and brawn that will last long years of usage.
Hand-painted decorative drawer knobs with Ceramic glazed finishing, perfect for a vintage style. These knobs are suitable for kitchen cabinets, wardrobes, or dressers.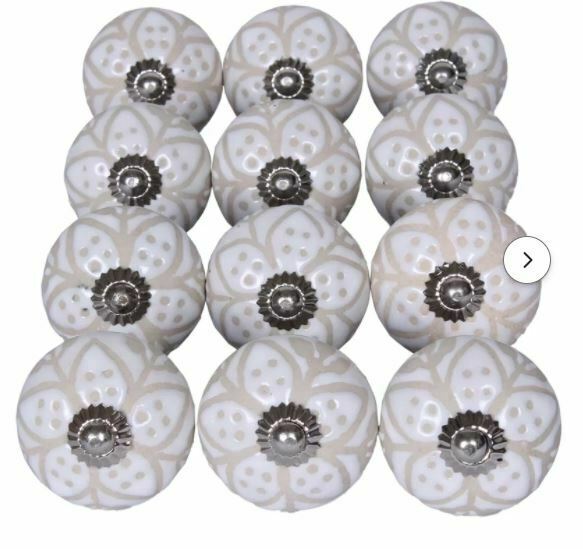 Features:
Round Knob
Ceramic and Steel
Gloss Finish
This is a striking ceramic knob featuring an intricate golden pattern on a black background.
These knobs are easy to affix, and no additional hardware is required; any excess screw can be cut to size to give a neat finish. All hardware is included with knobs.
You can install this Mushroom-shape knob by drilling a hole in a drawer and tightening the nuts.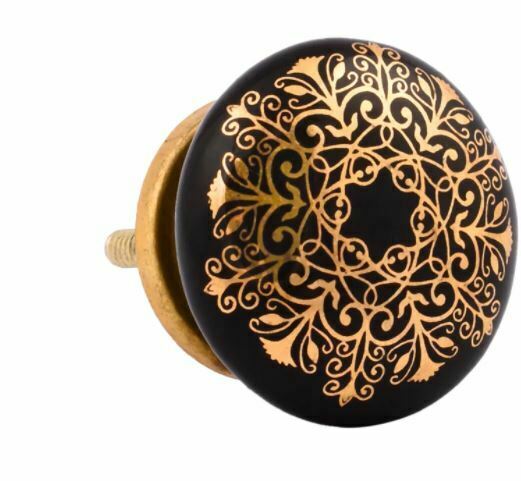 Features:
Black, Gold Finish
Ceramic
Each knob is handmade and polished to perfection. You can feel the difference when you hold the piece in your hand.
Provides comfortable projection on knobs and large centers. The Simple designs also give a bit of contemporary edge. The screw can be adjusted according to the thickness of the drawer.
Knobs can be used on the door, drawer, cabinet, dresser, wardrobe, and cupboard. Perfect decorative touch for cabinets, furniture, bathroom in your home or office.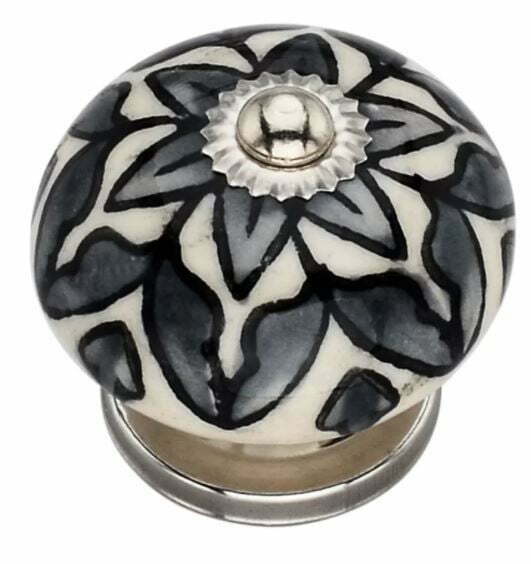 Features:
High-quality
Easy to Install
Gray/White Finish