Thinking about giving your kitchen a different vibe and feel? How do new knobs and pull for your kitchen cabinets sound? Though you may think these are small details, precisely these little changes make a huge difference. The reason why today we'll be sharing with you is how to choose knobs and pull for kitchen cabinets.
It is a given that most kitchen cabinets are not sold with hardware; it's up to homeowners to pick which knobs and pulls to pair with their selection. Knowing what to choose is vital because knobs and pulls can give a lot of character to your kitchen and your overall personal style.
With so many unique styles and finishes to choose from, this is certainly not an easy decision. To give you a nudge in the right direction for the hardware for your kitchen cabinets of your dream, consider the following tips.
How to Choose Knobs and Pulls for Kitchen Cabinets FAQ
What is the difference between knobs and pulls for kitchen cabinets?
Knobs have smaller profiles than handles, are less expensive, and can be used for drawers and cabinets. They are slightly easier to install than pulls since you only need one screw to secure the knob to the surface.
Pulls are larger than knobs, make more of a statement, and tend to be easier to grip. They are more expensive than pulls, but they come in many different sizes. They tend to complement drawers or larger cabinets with their linear shape.
Should I use knobs or pulls on kitchen cabinets?
This is a matter of your personal preference. While kitchen hardware serves a simple purpose, it can be hard to choose the right pieces. The reality is that everyone has their own stylistic preference, but what matters most is that you choose the knobs that best fit what you want to see in your kitchen.
Can you mix knobs and pulls in a kitchen?
Of course. You can mix knobs and pulls. It's recommended to use pulls for higher-up cabinets and knobs for lower-style cabinets. Lower drawers that slide are typically fitted with a pull handle.
Should my kitchen cabinet pulls match my faucet?
Does cabinet hardware have to match your faucet? No. But, traditionally, kitchens and bathrooms will match hardware finishes to the faucet to tie the finishes in the room together. Matching cabinet hardware to your faucet creates a cohesive look.
What size should pull for kitchen cabinets be?
There is no right or wrong size to choose from; however, it is recommended to choose pulls that have at least a 3-3/4″ center to center (the distance between the screw holes). This size looks pleasing on most cabinets while still being large enough to grip comfortably. 5″ pulls are also an excellent choice.
Should cabinet pulls be vertical or horizontal?
The thing to keep in mind with cabinet pulls is placing them vertically or horizontally. Usually, we recommend placing the pulls vertically for cabinet door pulls, making it easy to open the doors (again, functionality is key).
How do I know what hardware to get for my kitchen cabinets?
Stick with the theme. The hardware you choose speaks to your theme in the same way your kitchen cabinets do. Traditional cabinets tend to have more detail and benefit from simple, smooth knobs.
Keep finishes cohesive. You'll find hardware in a range of finishes, from brushed nickel to brass. While mixing and matching the hardware around your kitchen is fine, you should maintain the same finish and keep colors as close as possible.
Know when to use knobs over pulls. Putting a knob on a cabinet in traditional and country kitchens is not uncommon. In fact, with many cabinets, knobs may be a better option than pulls. When kitchen cabinets are ornate or finely detailed, go with a knob rather than a pull. A knob is smaller and simpler and doesn't take attention away from the design of the cabinets.
Consider the color of your kitchen cabinets. The color of your cabinets is as important as the style when choosing hardware. With white and painted cabinets, almost any finish will work, but some shades of brown are not as flexible.
Be aware of the appliances and fixtures in the kitchen. Pulls and knobs are not the only hardware in your kitchen. Take into account the finish on appliances, light fixtures, and your sink and faucet.
Don't overlook quality. The hardware in your kitchen sees a lot of traffic. Don't put so much importance on the look that you forget about quality.
Step outside of the box. Your standard hardware will come in finishes like brushed nickel and bronze, but it's okay to go with something out of the ordinary.
How to Choose Knobs and Pulls for Kitchen Cabinets
Determine your Style
There are no strict rules to follow when selecting a knob, pull or both.
Once you've decided on hardware type, you'll want to think about what style suits your space best. Hardware with ridges, curved silhouettes, and textured detailing typically work well with traditional or heritage-inspired designs.
Examples of square cabinet styles include shaker, flat panel, or any "modified" shaker door with a flatter and squared look.
Examples of curved cabinet styles include traditional raised panel doors, pillow-top doors, recessed panel doors with ogee edges, or beads on the inside or outside profiles.
The cabinets knobs are an ideal way to beautify an entire room. Make cabinet hardware a part of your home décor today.
The Black cabinet knobs have a wide appeal across various kitchen cabinet doors and drawers.
The Matte Black knobs have a clean and timeless look that works with farmhouse, vintage, traditional and transitional styles.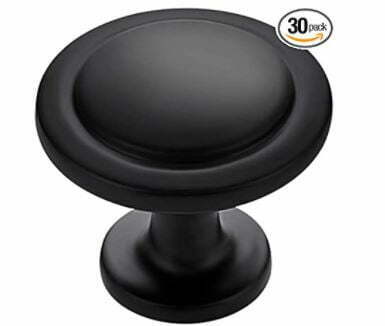 Features:
The Black cabinet handles have a wide appeal across various kitchen cabinet doors and drawers.
The Matte Black handles have a clean and timeless look that works with farmhouse, vintage, traditional and transitional styles.
The bar pulls are made of stainless steel finished with classic matte black coordinates well with other appliances and accessories.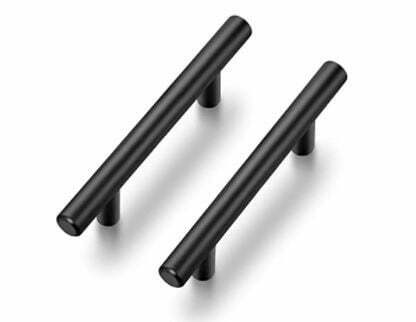 Features:
Pull Handle
Stainless Steel
Black
Select a Finish
You'll want to think carefully about the finish. Cabinet hardware works best when the finish adds contrast to the room. What color are your cabinets? What about your appliances, faucet, and lighting?
Some finishes go well with brushed nickel or brushed stainless faucet: antique pewter, bronze (light to dark), satin brass (this one can get tricky), oil-rubbed bronze, aluminum, black matte, and rust.
Finishes that go well with a chrome faucet are more limited, such as white, black, dark bronze, pewter, or clear glass.
Perfect brushed brass finish, made of great-excellent quality stainless steel, beautiful addition to your home.
These brass pulls are hollow construction but very sturdy and durable after installation; they don't flex and would be fine for kitchen duty.
Suitable for different styles of cabinets, use these gold hardware to decorate your cabinets or update some old furniture, bringing you a modern look. Very stylish and unique.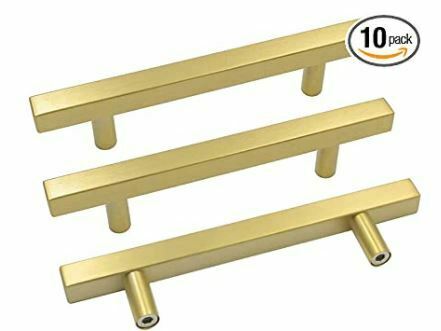 Features:
Brushed Brass
Handle Pull
Stainless Steel
For the kitchen, bathroom, and the rest of the home, with a variety of finishes and designs for all decorating tastes, Amerock is the ultimate source for your hardware needs.
From rustic to modern-day casual, traditional to contemporary, this classic mushroom knob can accommodate any personal style while making on-trend, quality hardware affordable.
The Amerock 1-1/4 inch (32 mm) Diameter Knob is finished in Oil-Rubbed Bronze.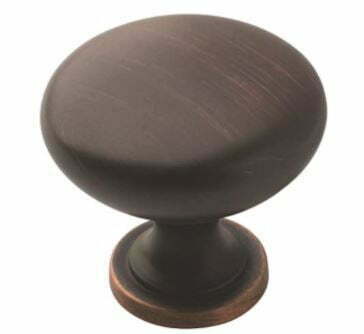 Features:
Finished in Oil Rubbed Bronze
Bronze
Aluminum
Determine the Size
Drawers and cabinets range in size, so it can be difficult to determine what size you need. While there is no set rule, we generally recommend that the pull length is approximately 1/3 of the cabinet or drawer width.
Small Drawers that are 12″ or less typically work best with a pull that is 3″ to 4″ long or a knob that is 1″ in diameter.
Medium Drawers that are between 12″ to 30″ work well with a pull that is between 4″ to 8″ long or a knob that is between 1″ to 1.5″ in diameter
Large Drawers that are 30″ to 48 "will require a pull that is longer than 8″ or a knob that is 1" in diameter or greater. Using two pulls or knobs for a large drawer also works excellent.
It is pretty helpful to know how to install cabinet handles and how to clean cabinet handles and certainly know how to install cabinet hinges.