Do you feel like your kitchen is missing a little special touch and find yourself looking for a way to add unique beauty to your kitchen? How about adding beautiful glass cabinet knobs to your built-in cabinetry.
Glass cabinet knobs are a fantastic way to add that extra something special to the space and make it feel complete. By adding this type of unique eye-catching hardware, you can express your own personality to your favorite spaces and glass cabinet knobs, which certainly go beyond the typical brushed nickel alternative.
As you may imagine, with a variety of styles also comes a variety of colors and textures so knowing what to choose may seem a challenging task. Do not panic, we can assure you the perfect choice for you is out there. So, check out below different glass cabinet knobs options and feel free to pick your favorite.
Glass Cabinet Knobs FAQ
What to know about buying cabinet knobs?
Determine the shape you want. Take note of your cabinet style, countertop edge, lighting fixtures, and any other important design elements. Do they have square or curved lines?
Choose hardware that is consistent with the type of lines in your design.
Consider the finish. While most people will choose chrome or brushed nickel, numerous other finishes are available to add interest to your kitchen. You don't need to match your faucet as long as the finish complements other finishes in the design.
Think about comfort. Try out the knob or pull before you purchase the entire kitchen.
Touch it, feel it, and fit your hand inside the pull. Does it fit? Does it feel nice? Or does it cram your fingers and feel sharp around the edges? You should be able to fit four comfortably.
What is the difference between glass and acrylic cabinet knobs?
Acrylic material is a very hard plastic that can be difficult to distinguish from glass in its appearance because it can have exceptional clarity and reflects light in a similar way. It is lightweight and durable which also makes it a great stand-in for glass in many settings.
Both glass and acrylic cabinet hardware is offered in beautiful, versatile styles. However, acrylic options tend to be more common with modern styles of hardware while glass knobs and pulls can be more likely found in traditional and antique styles.
What are the different presentations of glass cabinet knobs?
Clear Glass Cabinet Knobs
Mercury Glass Cabinet Knobs
Colored Glass Cabinet Knobs
Glass Cabinet Appliance Pulls
Colored Glass Cabinet Bar And Cup Pulls
Clear Glass Cabinet Bar And Cup Pulls
What to keep in mind when choosing glass cabinet knobs?
While not necessary, you can choose to match the metal on their hardware to other metals within the space on items such as the faucet or appliances.
If you want to minimize the appearance of the metal, going with a lighter color, such as brushed nickel or chrome, may help to ensure it doesn't stand out too much.
You may prefer to have the metal be part of the overall look and want it to reflect through the glass of the knob or pull, then going with a contrasting color such as rose gold, brass, or black will play up the look of the metal you choose.
Glass Cabinet Knobs
The Faceted Crystal cabinet knob adds an elegant charm to your room's decor. Constructed of faceted glass with a Satin Nickel base, this knob is both durable and timeless.
This Satin nickel finish is ideal for white or dark cabinets and vanities; this dark teal-colored faceted glass knob installs in minutes without the need for power tools and it is perfect for vanities or furniture.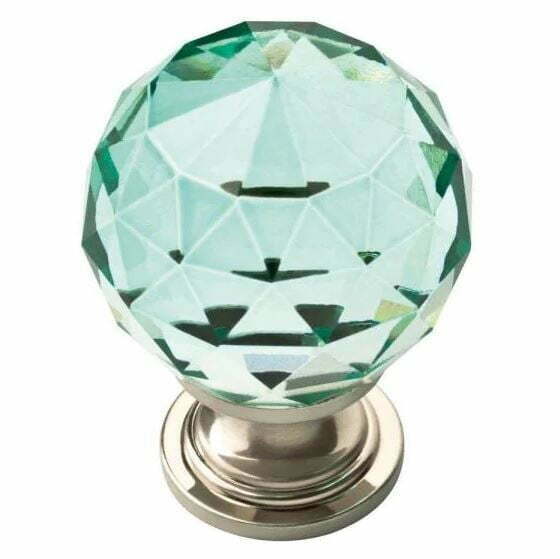 Features:
Dark teal glass
Satin nickel base
Highly reflective faceted ball knob shape
These vintage hand-crafted mercury glass knobs and pulls can be used on dresser drawers, kitchen cabinets, bathroom cabinets, or furniture.
This decorative knob will make any furniture look more elegant without the cost. Switch out those old, plain-looking, hard-to-grab drawer knobs with our attractive, high-quality, non-fading, attention-grabbing decorative knobs.
Made with superior glass and metal, it is very easy to install with pliers and can handle heavy usage.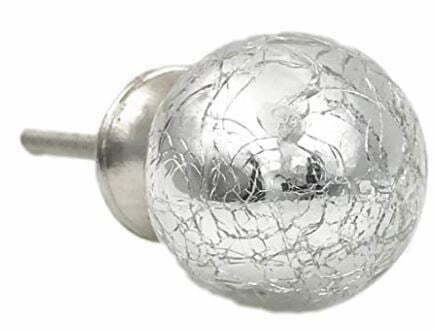 Features:
Glass, Acrylic
Antique Style
1.62″ length of the bolt
Cosmas Hardware is the way to go when designing or fixing up your kitchen or bathroom. They do charge for unnecessary markups for their hardware like some of the other major brands do. Therefore, giving you great hardware at a price that you can afford.
You can expect a high-quality brushed brass finish and a clear glass color. Easy to install without the use of power tools, use our installation template for help with drilling holes.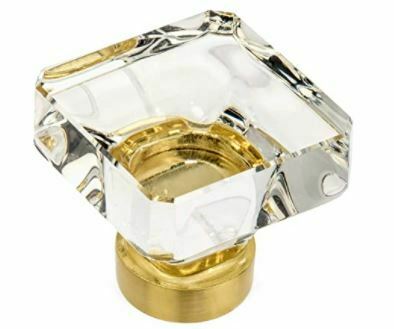 Features:
Glass, Brass
Square
Length: 1-3/8″
This classic and elegant Colonial era reproduction glass knob is great for upgrading furniture or kitchen cabinets, bathroom drawers, and cupboard doors.
This will not only look great on your kitchen cupboards but it is also a good weight and comfortable to pull.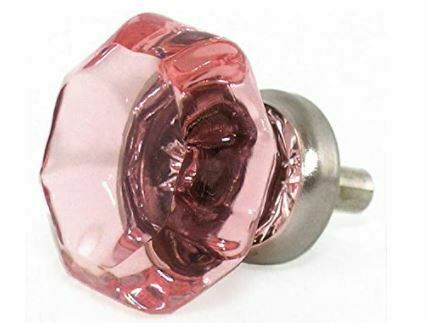 Features:
Solid Brass Base
Zinc Alloy
Pink
The Clear Glass Collection from Liberty is refined and opulent, perfect for your kitchen or bath cabinetry.
Finished in a soft brushed satin nickel finish and clear glass this collection is perfect for a classic and upscale look. Crafted from zinc and glass for long-lasting durability.
It is ideal for both kitchens and bathrooms, constructed of glass with durable zinc die-cast for a timeless satin nickel finish that coordinates with a wide variety of cabinet finishes.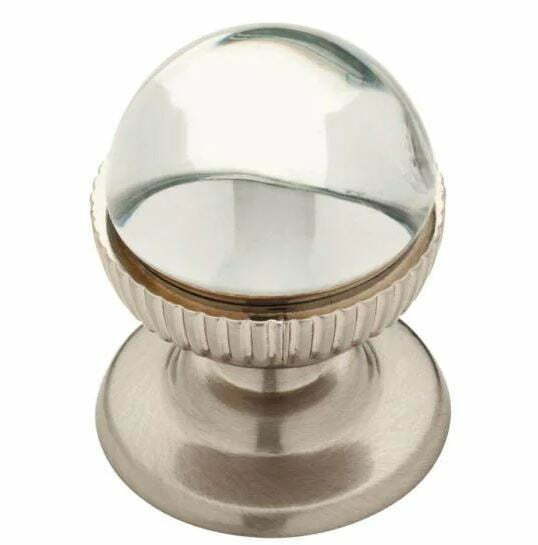 Features:
Versatile brushed satin nickel finish
Classic round knob shape
Rear-mount installation
Experience old-world charm, art deco attitude, or a retro vibe with distinctive shapes and creative details from the Traditional Classics collection. The classic Satin Nickel finish provides a sleek, lightly brushed, warm grey metallic look.
Amerock offers a complete line of decorative and functional cabinet hardware, bath hardware, hook and rail, and wall plates.
Intricately crafted with precise detail for life-long beauty and durability and hand polished to ensure superior glass clarity.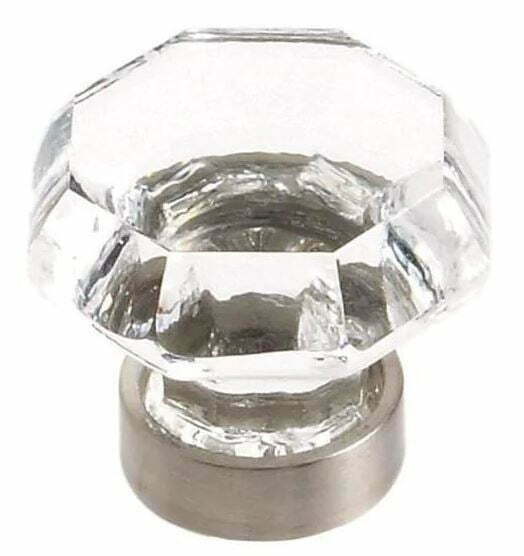 Features:
Jewel-like design
Sophisticated and timeless look
1-5/16 in. (33 mm) Dia knob