Wishing to give your kitchen a little upgrade? How about spicing things up a bit with brand new cabinet handles! Cabinet hardware's primary purpose is, function, however, these small details can also help define your home's style. But before you choose your hardware, you need to learn how to install cabinet handles.
Learning how to install cabinet handles may sound like an intimidating task, however, is not hard at all. That said, all you need is the right set of tools and follow the right steps, and before you know it, you'll have brand new cabinet handles that will brighten up your whole mood in the kitchen.
It can be really scary drilling holes in your brand new beautiful cabinets. Whether you painted old cabinets or got brand new ones, you don't want to do anything to disturb the untouched finish. So in an effort to help you in the right direction, continue reading and find out everything you need to know about how to install cabinet handles. Once you know how to install cabinet handles, you can easily change the style of your cabinets.
How to Install Cabinet Handles FAQs
What are the types of cabinet handles?
Knobs
Knobs are one of the most versatile decorative hardware options. Available in a variety of sizes, shapes, and finishes, they can be used on upper cabinets, lower cabinets, and drawers.
Pulls
Pulls are another versatile option that can be installed on both cabinets and drawers. For both upper and lower cabinets, the pulls should be installed vertically 2 ½ – 3 inches in from the corner of the door. For drawers, they should be installed horizontally in the center of the door.
Cup Pulls
Used most commonly in traditional and transitional style kitchens, cup pulls are an excellent way to add an extra pop of personality to cabinetry. Because of the size and configuration of cup pulls they are typically only installed on drawer doors.
Latches
For use only on cabinet doors, latches keep your cabinet doors tightly closed and provide a more rustic look. Cabinet latches provide a bit more freedom when it comes to placement.
Tab Pulls
Modern kitchen designs often feature tab pulls for a sleek look that doesn't distract from the cabinetry. For drawers, tab pulls are most commonly placed along the top center of the doors. On upper cabinets, tab pulls are either installed vertically on the opening of the doors or horizontally on the very bottom.
Where do you place cabinet pulls?
For both upper and lower cabinets, the pulls should be installed vertically 2 ½ – 3 inches in from the corner of the door. For drawers, they should be installed horizontally in the center of the door. While there is no hard-set rule for the size of your pulls, consider using longer ones on larger drawers and cabinets.
How to Install Cabinet Handles without splitting wood?
If you decide to make your own, simply hold up a piece of cardboard to the location of your first knob, with the edges lined up to the edges of your cabinet, and drill a hole through the cardboard. That will be where you mark all your other holes on each cabinet.
How to Install Cabinet Handles without drilling cabinets?
Cut a piece of Command Strip to fit the knob's base and press it into place on your cabinet front. Peel off the paper backing and firmly press your knob into place.
How do you put handles on kitchen cabinets?
Cabinet knobs are placed opposite door hinges. On-wall cabinets, knobs are usually placed 2-1/2" to 3" from the bottom corner of the door. On base cabinets, they are placed 2-1/2" to 3" from the upper corner of the door. If your drawer is 24" or wider, you may choose to place a second knob.
How to Install Cabinet Handles
Remove old cabinet handles
Use a screwdriver to remove the cabinet pull's fastening screws. These are usually found on the back of the cabinet door.
Measure the distance of the screw holes from one another and from the edge of the cabinet door.
Determine if they are appropriately spaced to be reused for your new cabinet pulls.
If you need to create new screw holes, patch the old holes with a wood filler that matches the finish of your cabinet. Paint over or refinish the patched holes as needed.
This versatile 11-in-1 multi-tool has everything the professional needs. The integrated screwdriver/nut driver shaft holds 8 popular tips and converts to 3 nut driver sizes.
The blades are interchangeable for a quick and easy switch out. Also offering a comfortable Cushion-Grip handle and bast finish bit tips provide a firm hold and reduce cam-out.
The company's product line has broadened to include virtually every major type of hand tool used in construction, electronics, mining, and general industry.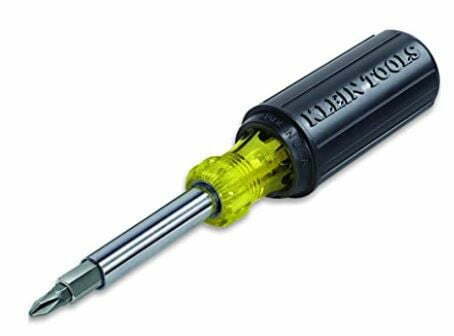 Features:
Multi-bit screwdriver
Cushion-Grip handle
Versatile
Measure and mark locations for new handles
If your cabinet doors have stiles, they should be centered on the width of the stile.
If your cabinets have slab doors without stiles, cabinet pulls are usually 2 to 3 inches up from the bottom edge of the door. They will be the same distance from the side edge.
Measure and mark this location with a pencil.
When installing a knob, this marked location will be where you drill your screw hole.
When installing a handle with two fastening screws, this marked location will be the middle of the handle. Measure the distance between the two fastening screws on the cabinet handle.
Divide that number in half to get the distance between your center mark and two new marks that indicate the top and bottom screw hole locations.
With a sturdy matte blade measuring 0.15mm thick stand out till 7 FEET, this 25-foot tape measure is strong and durable,
It is essential for everyone from everyday homeowners, interior designers to professional handymen, carpenters, metal or woodworkers, and architects.
The casing of our retractable measuring tape is made out of a top-grade rubberized material that is conveniently shock-absorbent.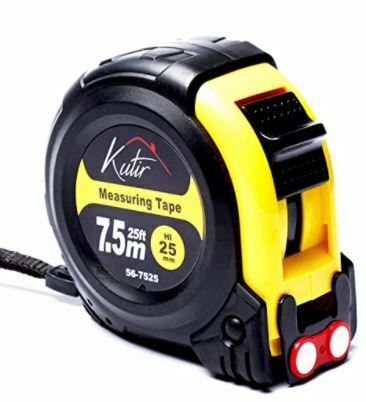 Features:
Bold numbers
Magnetic Hook
Shock-Absorbent Case
Drill holes
Most cabinet screws need a 3/16-inch diameter hole, so use a power drill with a 3/16-inch twist bit to create the screw holes.
Hold the door open with one hand as you drill or prop it open with a towel to avoid drilling into the cabinet frame.
Drill through the door at the marked screw hole locations.
The Drill/Driver with 30 accessories comes with the 20V max Lithium-Ion Battery. These batteries are always ready, holding a charge for up to 18 months.
This drill provides an extra level of control with a 24 position clutch that helps to prevent stripping and overdriving screws.
It has a soft-grip handle that provides added comfort during use and a lightweight to prevent user fatigue.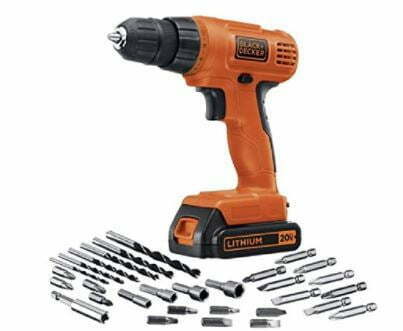 Features:
Magnetic Bit Tip Holder
Nut Drivers
2-Inch Screwdriving Bits
Install new cabinet handles
Insert the fastening screw through the backside of the hole.
Thread the knob or handle onto the screw or screws.
While holding the knob or handle with one hand, use a screwdriver to tighten the fastening screw.
Avoid over-tightening the screw, as this can crack or damage your cabinet door.
High-quality material, made of zinc-plated carbon steel, environment protection, high hardness, non-deformation, rust and corrosion resistance, suitable for indoor, outdoor, or humid environment, long service life.
Fine workmanship, smooth surface without burrs, complete and deep thread, stressed uniformly, hard to slip, sturdy, and durable.
Standard cross recessed pan head screw, easy to install, good for fastening.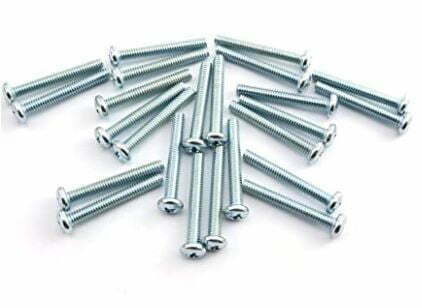 Features:
Easy to install
Carbon Steel
Round
Would you be interested in reading how to install Cabinet hinges?