If you feel like your kitchen is missing something, then it might be the perfect time for a bit of an upgrade. Stainless steel cabinet knobs are the ideal choice to upgrade the cabinetry in your kitchen, bathroom, or on your furniture. The reason why today we'll be telling you all about stainless steel cabinet knobs.
When it comes to hardware style, it depends mainly on your home's overall design style. Cabinet hardware's primary purpose is a function; however, these small details can also help define your home's style. There are lots of choices when it comes to choosing your hardware, but today we'll be focusing on stainless steel cabinet knobs.
As you may imagine, the market offers multiple styles to choose from; with many options available, selecting the one that will adapt the best to your needs can be somewhat challenging. Do not fret; rest assured that the stainless steel cabinet knob of your dreams awaits you. Keep reading and check out different stainless steel cabinet knobs that we think will look just fantastic in your kitchen.
Stainless Steel Cabinet Knobs FAQ
What is cabinet hardware?
Cabinet hardware refers to the knobs and pulls attached to both your cabinets and drawers. Hardware also includes the hinges that allow the cabinet door to swing open. The primary function of cabinet hardware is to enable you to open your cabinet doors and drawers.
Are stainless steel cabinet knobs worth it?
Minimalistic Styling Meets Stainless Steel Infuse a little harmony into your kitchen with the Stainless Steel accents. The knobs are effortlessly coordinated with high-end appliances and fixtures made of stainless steel. Available in various shapes and styles, stainless steel knobs can make your hardware selection swift and simple.
What are the pros and cons of choosing stainless steel cabinet knobs?
Pros
A stainless steel finish is easy to match and will look at home next to your stainless appliances.
Solid stainless is corrosion resistant and our recommendation for all outdoor kitchens.
Stainless hardware is typically not sealed, so the finish can be polished or lightly sanded to remove surface scratches.
It's hygienic and non-porous, making it ideal in food and medical applications. It also provides an aesthetic appearance and, like metal, can be recycled.
Cons
Solid stainless is more expensive than other options. Plated stainless pieces are a good option indoors but will not hold up outdoors.
If electrical conductivity is important, look elsewhere. Stainless steel performs relatively low in that area.
Stainless steels also tend to cost more than plastics, but this could be worth it depending on your application.
Can stainless steel cabinet knobs get rusty?
Stainless steel is one of the most common finishes requested for decorative hardware. This durable finish is incredibly hardy, but keep in mind that it is possible for stainless steel to rust. Luckily, stainless steel is resilient, and rust can be quickly buffed away.
If your hardware is in corrosive air, it may be prudent to opt for 316 (marine grade) stainless steel over the more common 304-grade stainless steel. 316 stainless is more expensive and less common but offers superior strength against rust.
Are cabinet knobs better than cabinet pulls?
Knobs have smaller profiles than handles, are less expensive, and can be used for drawers and cabinets. They are slightly easier to install than pulls since you only need one screw to secure the knob to the surface.
Pulls are larger than knobs, make more of a statement, and tend to be easier to grip. They are more expensive than pulls, but they come in many different sizes. They tend to complement drawers or larger cabinets with their linear shape.
What type of handles goes on kitchen cabinets?
There are no strict rules to follow when selecting a knob, pull or both. One preference is to use knobs for all doors and pulls for all drawers. Use a pull for any large door such as a pantry and any pull-out door (including pull-out base pantries or trash pull-outs).
Is it difficult to install cabinet knobs?
Tools:
Screwdriver: Use to tighten the screw into the back of the cabinet knob
Tape measure
Hacksaw
Drill
Drill bit
Countersink drill bit
Directions:
When fitting a cabinet knob, it is good first to determine if the length of the screw is correct. If it is too long, then it will need to be cut down using a hacksaw, and if it is too short, you may need to countersink it into the cupboard door.
Screw the fixing into the back of the cabinet knob to see if any adjustment needs to be made with the length or to determine the depth that needs to be countersunk. It's best to adjust the screw as little as possible to allow enough length in the back of the cabinet knob for secure fixing.
Once the screws are the correct length, mark where you wish the cabinet knob to sit. Drill the appropriate size hole for the screw and use a countersunk drill bit so the screw can sit within the door but not fall through.
Slide the screw through the door and start to attach the cabinet knob to it. Once on the screw enough, push the cabinet knob flush to the door and then tighten the screw to the cabinet knob.
Avoid spinning the cabinet knob on as this may cause damage to your cupboard doors and paintwork.
What to know before choosing cabinet knobs?
Determine the shape you want. Take note of your cabinet style, countertop edge, lighting fixtures, and other important design elements. Do they have square or curved lines?
Choose hardware that is consistent with the type of lines in your design.
Consider the finish. While most people will choose chrome or brushed nickel, numerous other finishes are available to add interest to your kitchen. You don't need to match your faucet as long as the finish complements different finishes in the design.
Consider how materials will feel. Along with the finish, hardware material can impact the style and feel of the space. Most cabinet pulls, and knobs are made out of metal. However, you can also find knobs and pulls made of glass, wood, crystal, plastic, and stone.
Think about comfort. Try out the knob first. Touch it, feel it, and fit your hand inside the pull. Does it fit? Does it feel nice? Or does it cram your fingers and feel sharp around the edges?
If you would like your hardware to make a bold impact, choose a finish with a lot of contrast with your door color. For example, black hardware on white doors or satin brass on navy blue doors. On the other hand, if you'd like your hardware to be more subtle, choose a similar finish in color and light to your doors.
What are the different types of knobs?
Push-Pull: A push-pull knob is a type of knob that requires pushing or pulling to use.
Ball: There are also ball knobs. Ball knobs consist of a circular ball that you can grip to open or move the object to which they are connected.
Prong: A prong knob is a type of knob-based handle that features prongs. It doesn't have a round gripping handle, nor does it have a lever gripping handle.
T-Handle: A T-handle knob features a long and straight gripping handle, also known simply as a handle.
Knurled Rim: The handle isn't smooth. Instead, knurled rim knobs have a textured or "knurled" handle that allows for more excellent traction than that of other types of knobs.
Stainless Steel Cabinet Knobs
Bring a contemporary look and feel to your kitchen or bathroom cabinetry with the Bauhaus Collection from Liberty.
Minimalist in nature, this 1-5/8 in. Bar Knob features crisp, clean lines constructed from genuine stainless steel for maximum durability and for a sleek, high-end appearance.
It provides the perfect finishing touch for those looking to make a statement with existing or new home decor. Stainless steel finish coordinates with various cabinet finish, from white to espresso.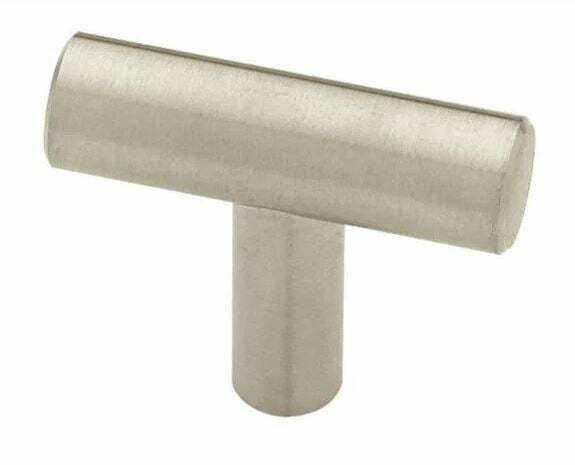 Features:
Solid stainless steel construction and finish
Bar shaped knob
Easy to Install
The graceful arc of the American Diner pulls is combined with details reminiscent of a 50's diner to create a classic look that pairs well with most spaces.
Shiny silver tones highlight the retro inspiration and darker tones showcase the elegant and timeless forms.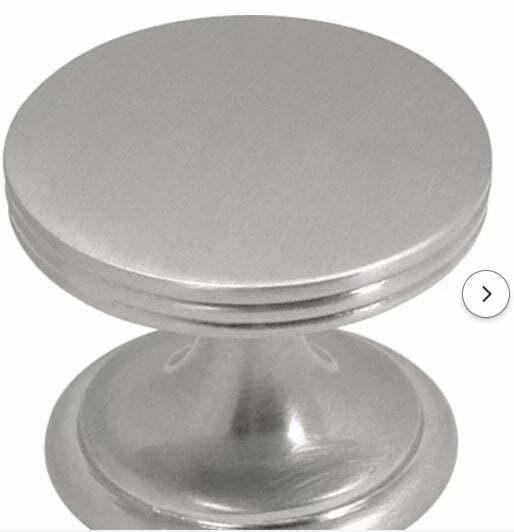 Features:
Zinc construction
Fastener Width: 0.164 Inches
Pilot Hole Diameter: 0.136 Inches
Mushroom Shape Knob
An embrace of vintage plumbing, namely the Fuller ball Knob, was popular in the early 20th century. This evocative collection is an evolution of that craftsmanship, this evocative collection appeals to romanticism or even whimsy.
Belwith-Keeler is a refined brand, with trend-leading design inspired by the latest fashion.
The product line is refined with expert fit and finish, adding only the finest to their living design library since 1893.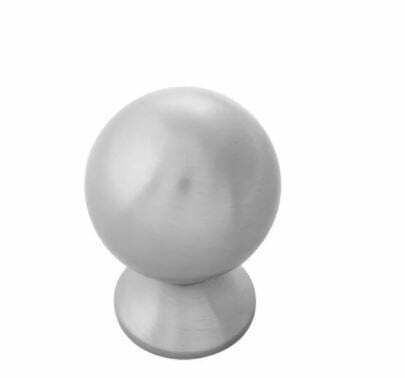 Features:
Contemporary style
Round Knob
Zinc
Sleek modern lines with a hefty, durable feel make our Lexington Collection of Door and Drawer Knobs an excellent selection in nearly any kitchen, bathroom, or bedroom.
Each knob is constructed of long-lasting Stainless-Steel and sized so that clothing and fashion accessories do not get caught on the ends as experienced with other bar pulls.
It is the perfect complement to cabinets or fine furniture. The nominal dimensions listed are "Center-to-Center" with machined threads for strength and accuracy.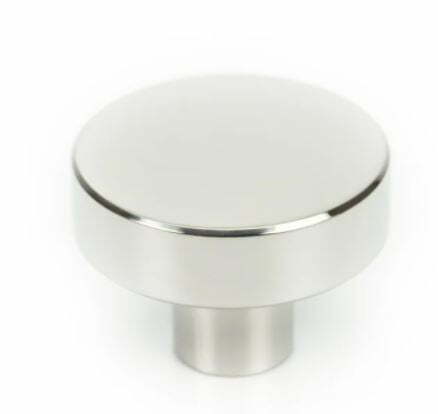 Features:
Cylindrical Knob
Metal
Steel
Give your space a hassle-free style upgrade with the Hickory Hardware Swoop 1-1/4 in. stainless steel cabinet knob.
With metal construction, a modern design, and a striking stainless steel finish, this versatile knob helps give your space a fresh look.
Mounting hardware is included for easy installation. Adds a decorative touch to your home with this stainless steel finish.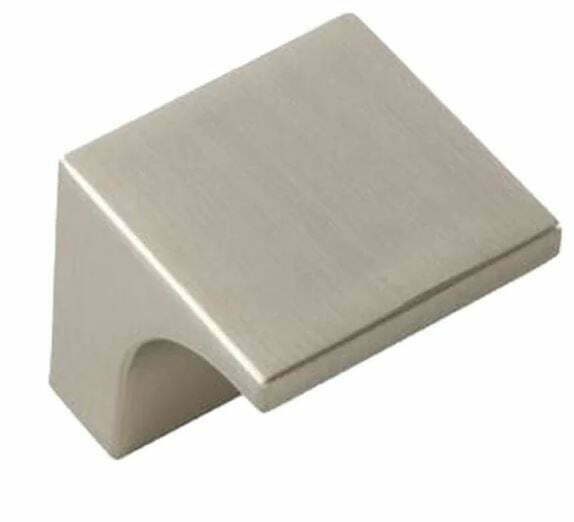 Features:
Rear mount installation
Decorative