Hardware is considered the jewelry of cabinets, so dress up your drawers and doors with gorgeous porcelain cabinet knobs. If you feel like your kitchen is missing something then it might be the perfect time for a little upgrade. The reason why today we'll be telling you all about porcelain cabinet knobs.
When it comes to hardware style, it is dependent mainly on the overall design style of your home. Cabinet hardware's primary purpose is a function, however, these small details can also help define your home's style. There are lots of choices when it comes to choosing your hardware but today we'll be focusing on porcelain cabinet knobs.
As you may imagine, the market offers multiple styles to choose from; with many options available, choosing the one that will adapt the best to your needs, can be somewhat challenging. Do not panic, rest assured that the perfect porcelain knob is out there waiting for you. Keep reading and discover different porcelain cabinet knobs that we think will captivate your style.
Porcelain Cabinet Knobs FAQ
What is cabinet hardware?
Cabinet hardware refers to the knobs and pulls attached to both your cabinets and drawers. Hardware also includes the hinges that allow the cabinet door to swing open. The primary function of cabinet hardware is to allow you to open your cabinet doors and drawers.
Are porcelain cabinet knobs worth it?
It is all about personal choice, however, if it's a timeless elegance you seek, fasten your cabinets and doors with porcelain cabinet knobs and drawer pulls. Use porcelain hardware to embellish and add character to kitchen cabinets or bathroom vanities.
Why choose porcelain cabinet knobs?
Porcelain knobs offer a timeless look that fits many period styles, from Victorian to Craftsman and more.
From modern crackled porcelains to painted porcelains and even deep blacks, choose the perfect hardware piece to accent furniture or adorn a restoration project.
The porcelain material offers an incredibly durable finish that can withstand the test of time.
Are cabinet knobs better than cabinet pulls?
Knobs have smaller profiles than handles, are less expensive, and can be used for both drawers and cabinets. They are slightly easier to install than pulls since you only need one screw to secure the knob to the surface.
Pulls are larger than knobs, make more of a statement, and tend to be easier to grip. They are more expensive than pulls, but they come in many different sizes. They tend to complement drawers or larger cabinets with their linear shape.
What type of handles goes on kitchen cabinets?
There are no strict rules to follow when choosing whether to select a knob or a pull or both. One preference is to use knobs for all doors and pulls for all drawers. Use a pull for any large door such as a pantry and any pull-out door (including pull-out base pantries or trash pull-outs).
Is it difficult to install cabinet knobs?
Tools:
Screwdriver: Use to tighten the screw into the back of the cabinet knob
Tape measure
Hacksaw
Drill
Drill bit
Countersink drill bit
Directions:
When fitting a cabinet knob, it is good to first determine if the length of the screw is correct. If it is too long, then it will need to be cut down using a hacksaw and if it is too short you may need to countersink it into the cupboard door.
Screw the fixing into the back of the cabinet knob to see if any adjustment needs to be made with the length or to determine the depth that needs to be countersunk. It's best to adjust the screw as little as possible to allow enough length in the back of the cabinet knob for secure fixing.
Once the screws are the correct length, mark where you wish the cabinet knob to sit. Drill the appropriate size hole for the screw and use a countersunk drill bit so the screw can sit within the door but not fall through.
Slide the screw through the door and start to attach the cabinet knob to it. Once on the screw enough, push the cabinet knob flush to the door and then tighten the screw to the cabinet knob.
Avoid spinning the cabinet knob on as this may cause damage to your cupboard doors and paintwork.
Do porcelain cabinet knobs require special installation?
Keep in mind that it is made of glass and that glass knobs and handles require special care during installation.
Do not use power tools, you should only use hand tools to install glass hardware.
To tighten, turn only the nut on the back end of the screw (this is one reason why the screw head is smooth and has no slot).
Do not turn the knob itself as it may cause breakage. Tighten with care and do not over-tighten.
General tips before choosing cabinet knobs:
Determine the shape you want. Take note of your cabinet style, countertop edge, lighting fixtures, and any other important design elements. Do they have square or curved lines?
Choose hardware that is consistent with the type of lines in your design.
Consider the finish. While most people will choose chrome or brushed nickel, there are numerous other finishes available to add interest to your kitchen. You don't need to match your faucet as long as the finish complements other finishes in the design.
Consider how materials will feel. Along with the finish, hardware material can impact the style and feel of the space. Most cabinet pulls and knobs are made out of metal. However, you can also find knobs and pulls made of glass, wood, crystal, plastic, and stone.
Think about comfort. Try out the knob first. Touch it, feel it, and fit your hand inside the pull. Does it fit? Does it feel nice? Or does it cram your fingers and feel sharp around the edges?
If you would like your hardware to make a bold impact, choose a finish that has a lot of contrast with your door color. For example, black hardware on white doors, or satin brass on navy blue doors. On the other hand, if you'd like your hardware to be more subtle, choose a finish that is similar in color and light to your doors.
Porcelain Cabinet Knobs
Give your cabinetry and furniture timeless appeal and a stylish new appearance with Restorers Porcelain knob.
The White knob attaches with a Brass bolt through the middle of the knob. These porcelain knobs are the perfect accent for our cabinets.
This glass knob/pull is durable. However, please bear in mind that it is made of glass and that glass knobs and handles require special care during installation.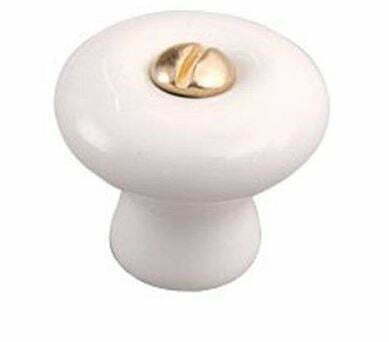 Features:
Created using old-world craftsmanship, this beautiful vintage Brown Crackle Porcelain Knob is part of the Tranquility family of knobs.
It is the perfect decorative touch for any project. The round porcelain knob has a polished brass base and matching screw going through the center of the knob. 1-in. and 1 1/2-in. sizes.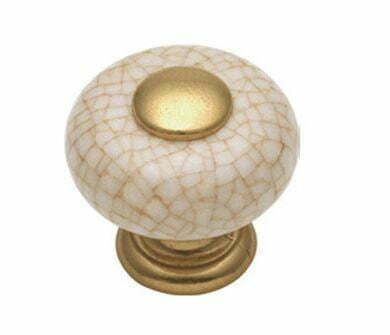 Features:
Vintage Brown Crackle Color
Polished Brass
This unique Alps Collection adds a touch of whimsy to its variety of finishes and shapes.
Let your imagination run wild with all the possibilities this collection affords. This 1 1/2-in. Cherry Ceramic knob is offered in several colors.
To tighten, turn only the nut on the back end of the screw. Do not turn the knob itself as it may cause breakage. Tighten with care and do not over-tighten.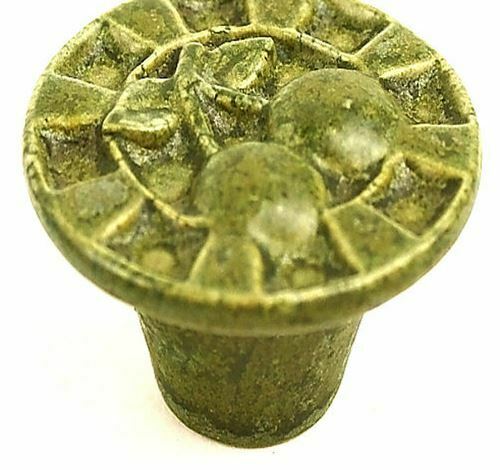 Features:
Ceramic
1 1/2″ Diameter
Durable
Give your cabinets a flower garden look with the Bouquet Knob with Gold Band.
This round, porcelain knob features a beautiful bouquet of flowers encircled with a gold ring and is part of the English Cozy Collection of floral print knobs and pulls from Hickory Hardware.
It is 1 3/8 inch diameter with 1 1/4-in. projection. Do not use power tools – use only hand tools to install glass hardware.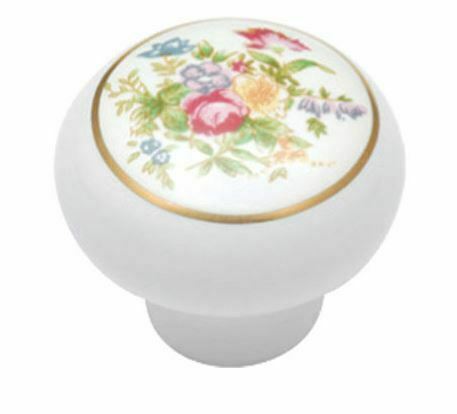 Features:
Bouquet Desing
Porcelain
1 3/8″ Diameter
Classic and elegant, this black porcelain knob brings a vintage appeal to any decor.
It is perfectly coordinated with items and, makes a stunningly simplistic statement wherever they are used. Mounting hardware included.
This porcelain knob is durable; however keep in mind that it is made of glass and that glass knobs and handles require special care during installation.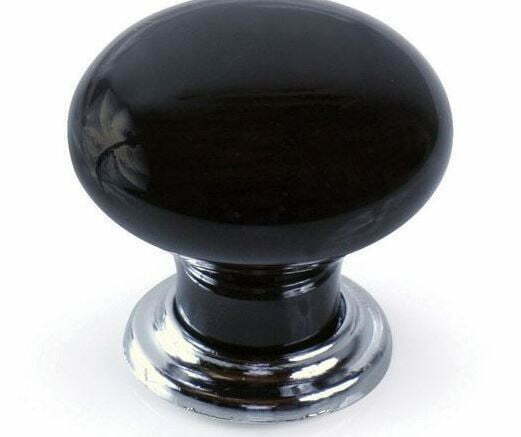 Features:
Chrome Base
Black Color
Porcelain